WELCOME TO SUMMERWOOD
STUDENT HOUSING IN OREM
WELCOME TO SUMMERWOOD
Welcome to Summerwood – student living for Utah Valley University, BYU, and local trade schools. Our off campus housing in Orem is super close to Utah Valley University campus and minutes away from many Trade Schools. No need to splurge on parking passes when you're just a short walk to school! We stand out among other UVU student apartments because of how spacious the floor plans are! Our private bedrooms are the largest in the market and allow you the space and privacy you need to be successful. With several fun amenities to choose from, we can guarantee you'll have the best college experience! 
This page will give you space to explore some of the main features we offer such as floor plans, resident reviews, amenities, photo gallery/virtual tour, and location. The buttons below each section will take you to a page with more information on the feature. When you're ready to make Summerwood your new home click on "Apply Now" below!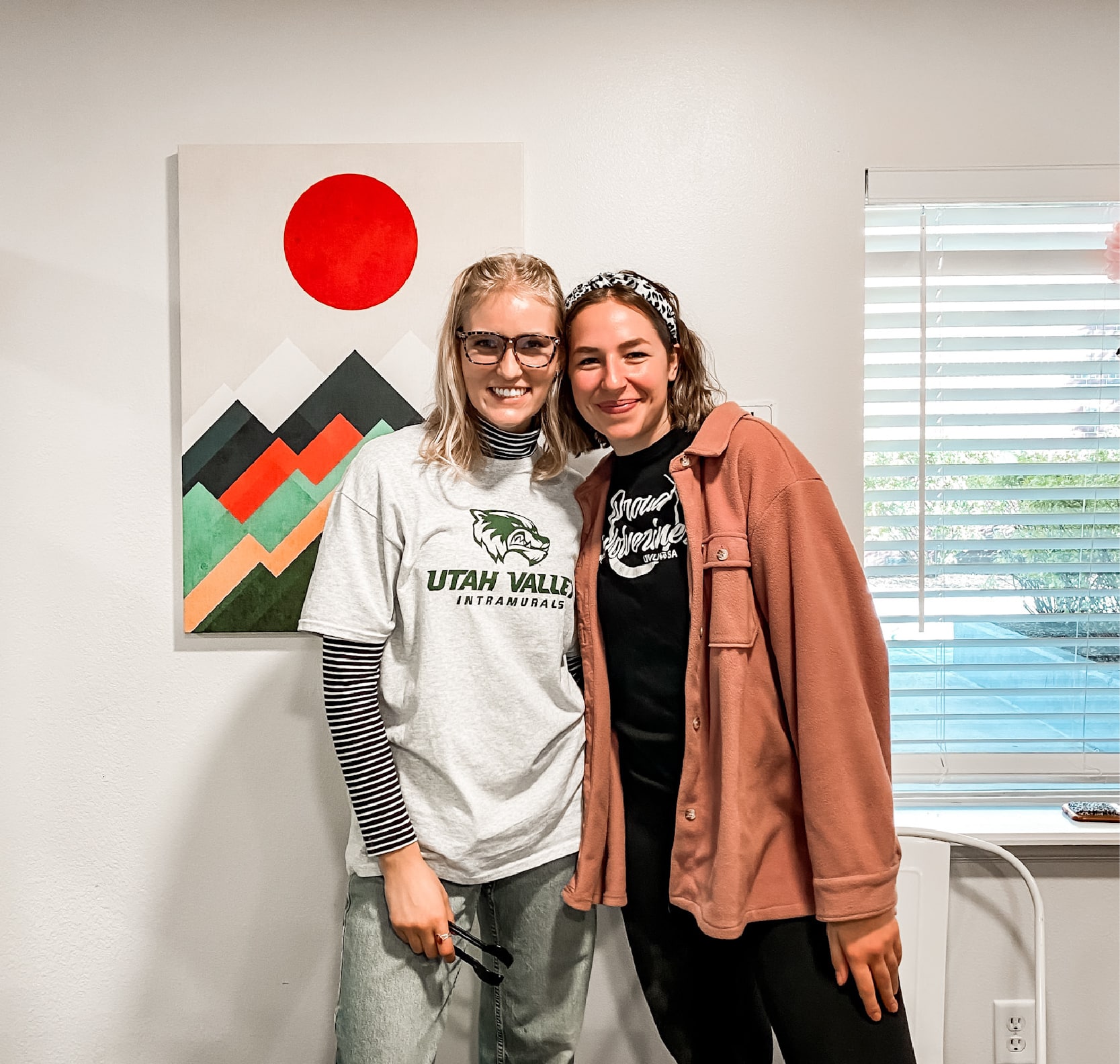 Welcome to Summerwood – the most comfortable student housing complex in Orem, UT
Explore Our Floor Plans
We want everyone to feel at home and comfortable here at Summerwood which is why we offer a private 4 bed, 2 bath floor plan for both men and women. Each apartment comes completely furnished with twin beds, a desk, chair, dresser, kitchen table, loveseat couch, a single couch, 55' mounted TV, and an in-unit washer and dryer. Our biggest seller is our HUGE private rooms and closets! We also have a number of ADA apartments to accommodate any individuals with medical needs. These units include roll in showers, grab rails, lowered counters, and shelf access. 
We know roommates can make or break your college experience which is why we offer roommate matching! If you aren't already planning to room with friends, you can fill out the roommate preferences section on the application and we'll match you based on age, grade, cleanliness, hobbies, sociability and animals. Form lifelong friendships and make fun college memories with your Summerwood roommates! Click below to view more of our floor plans!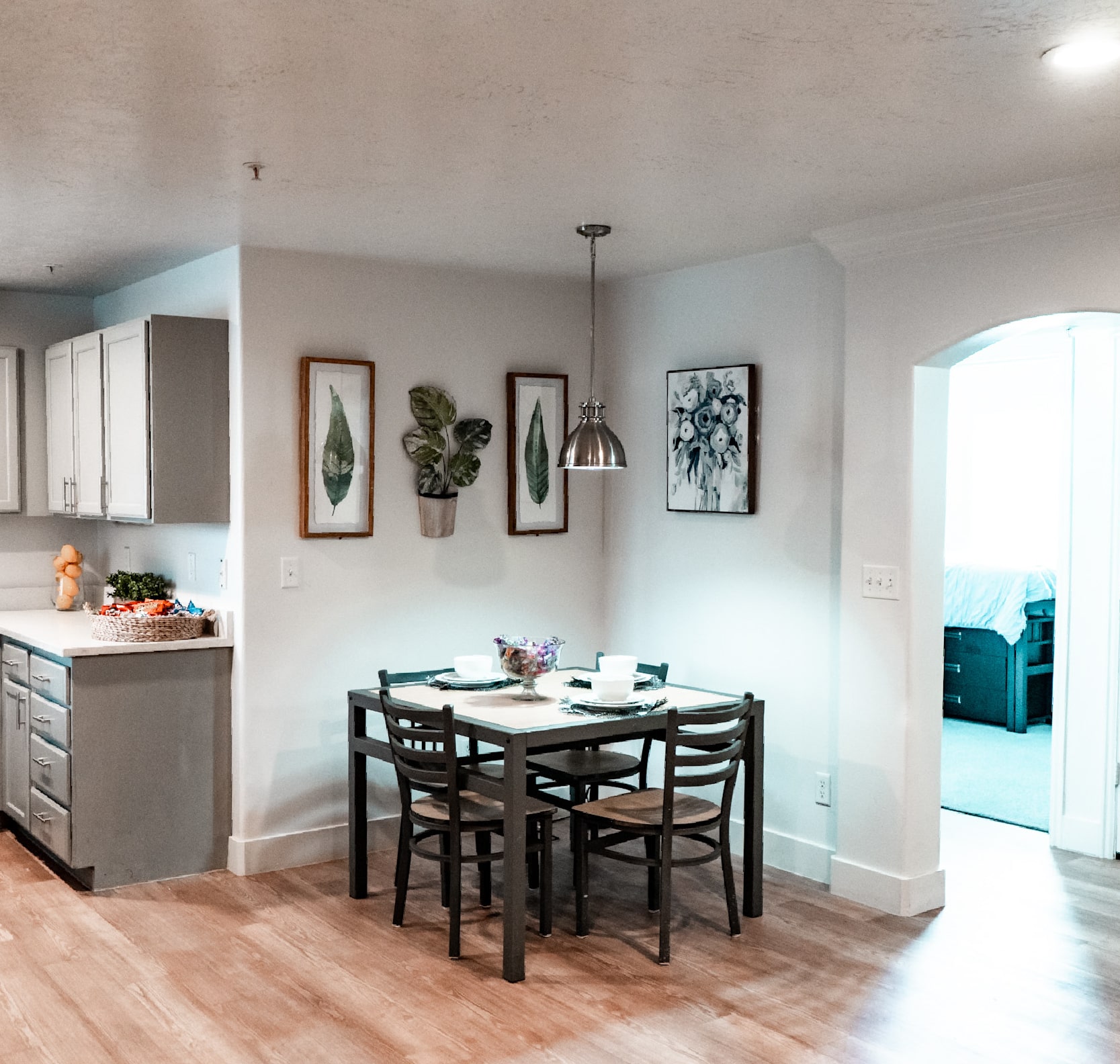 Check Out Our Resident Reviews
At Summerwood we want to give you the best college experience! Take a look at a few of our resident reviews to find out why students love living here!
"I love Summerwood. Management is great, and very helpful. Close to campus, so it saves money on gas and dealing with UVU traffic."

Devon J.
"I have loved living here! It is super nice having a private room! I love having underground parking and it only takes me 2 minutes to get to my classes at UVU!"

Chloe E.
"Super sweet and got my maintenance request done fast. And they're chill."

Angelia S.
"Very good experience! The staff is all so friendly and very helpful!"

Berklee S.
"I have had nothing but a pleasurable experience since I moved in. I fully encourage anyone who is thinking about it to move here."

Cody K.
Exceptional Amenities
Summerwood has several fun amenities unique to other student apartments in Orem! Below are a few of our most popular amenities:
Hot Tub: We are in the process of building a brand new hot tub. We've also renovated the whole courtyard, adding a large ADA deck, café lights, and privacy railings.
Basketball: We have a basketball court located in our main courtyard. It has a pad on the ground to accommodate the best grip and allows our residents to play even when it's raining.
Clubhouse: We have one of the largest clubhouses in the area! Our club house comes with a 72' flat screen tv as well as a huge sectional. It is the perfect space to have a movie night with all your friends. Take advantage of our ping pong table and foosball table or play your favorite musical pieces with our beautiful piano.
Underground Parking: A majority of our parking is underground! We also have parking above ground for those who drive oversized vehicles. With plenty of parking, you'll never have to worry about finding a spot. Our underground garage is secured by cameras to ensure our residents safety and wellbeing.
Gym: We provide an onsite gym equipped with all of the necessary equipment for a great workout! Choose from weights, a treadmill, an elliptical, a bench, and more! Along with our equipment, we also provide two 55' TV to allow our residents to watch their favorite channels while they exercise. Having an onsite gym gives our residents the convenience of not having to commute to a gym or pay gym membership fees.
Fire Pit: Enjoy our gas powered fire pit located in our courtyard. It's the perfect place for you and your friends to gather around. There are plenty of tables and chairs as well as two cute gazebo swings.
Grill Area: Make savory food with our two grills located on the property.
Floor Plans: All of our apartments have been newly renovated. The renovations included new furniture, carpet, flooring, counters, cabinets, electrical, plumbing! Our buildings are all shaped like the letter U. We have found that this shape has allowed our community to be close and neighborly.
Great Social Scene: We have a wonderful relationship with UVU and have had the privilege of working with the RCL program for the past few years. They've put on some great events that have brought our community even closer. Summerwood is also in the prime location for a dating/social life! We are within minutes to many fun activities, such as the Megaplex theatre, ax throwing, pickleball courts, and many popular restaurants.
With these exceptional amenities it's easy to see why we're named one of the most popular UVU housing for students! See our full list of amenities below!
Photo Gallery/Virtual Tour Sneak Peek
See more of our incredible amenities by taking a virtual tour. You can view all we have to offer from the comfort of your couch!
Location
|
Off Campus Housing UVU
Our location makes us the most convenient housing for students in Orem! Located just off of I-15 on Wolverine Way, we are just steps away from UVU and a short distance from several Trade Schools. Target, Walmart, Trader Joes, and WinCo are only minutes away. Since we're on the north side of campus we're close to the student center, the UCCU center, the soccer fields, and the criminal justice center. There are several transportation options for our residents without cars. We are close to the Sky bridge, the 862 bus stop that is located right in front of our complex, the front runner just west of us, and the UVX bus route (free to all students)!